City of Pittsburg July 4th Celebration
VENDOR INFORMATION
Online registration is currently open!
JULY 3RD SCHEDULE OF EVENTS
TIME
EVENT
LOCATION
8:00AM – 12:00PM
Farmers' Market Open – LIVE ENTERTAINMENT
Farmers' Market Pavilion, 119 E. 11th St., Downtown Pittsburg
10:00AM – 6:00PM
KIDDIELAND OPEN
Kiddieland Amusement Park
Single tickets and punch cards available!
All rides, except train, require a single (1) ticket per rider.
Train rides are two (2) tickets per rider.
11:00AM – 5:00PM
AMERICAN LEGION BASEBALL ALL AMERICAN CLASSIC

Jaycee Ball Park
Hosted by Benjamin A. Fuller Post 64
4:00PM
BICYCLE RIDE

Meet at Lincoln Center, 710 W. 9th


Ride Details:

Two ride distance options available: 10 miles OR 30 miles

Maps will be provided. 

Ride is unsupported meaning there is no one to call for help. Helmets are mandatory.

Riders should bring at least 1 water bottle.

For more information, contact Roger Lomshek at Tailwind Cyclist 620-231-2212.

5:00PM – DUSK
ARTS, CRAFTS & FOOD VENDORS
Lincoln Park
7:00PM – 9:00PM
LIVE ENTERTAINMENT

J.J. Richards Band Dome

Live music by:
7:30PM
Firecracker 5K Run

Lincoln Center
5K info:

Preregistration: $15.00, Day of Event: $20.00.
First 50 runners registered will receive a free t-shirt!
JULY 4TH SCHEDULE OF EVENTS
TIME
EVENT
LOCATION
8:00AM – DUSK
ARTS, CRAFTS & FOOD VENDORS
Lincoln Park
8:00AM – 1:00PM
INFORMATION BOOTH

Lincoln Park,        Pavilion #3

8:30AM – 10:30AM
FISHING DERBY
Lincoln Park Pond 
Info:

Thank you to our generous sponsors Kansas Department of Wildlife and Parks.

No pre-registration required; all participants will register and pay the day of the event.
Meet by the pond by the tennis courts in Lincoln Park/Four Oaks Golf Course.
Fee: $4.00 for Adults | $2.00 for Youth (Under 16)
Categories: Most Fish & Largest Fish in Adult and Youth Divisions
Prizes for 1st, 2nd and 3rd place in all divisions
Don't forget to bring your own fishing pole, bait and chair! 

9:00AM
ROLLIN' NOSTALGIA
CAR SHOW
McNally Drive – Don Gutteridge
Sports Complex
Info:

Check in at Northeast Entrance of Don Gutteridge Sports Complex
For more information regarding the car show, contact Brad Hill at 620-231-8343 or by email at rollin-nostalgia@outlook.com.
Visit their website: http://sites.google.com/site/rollinnostalgia

9:30AM
PRIDE OF PETS DOG PARADE
Lincoln Park,        Pavilion #1


Meet at Lincoln Park Pavilion #1 – SEK Humane Society will lead the way around the park! Dress you and your four legged friends in patriotic attire to show off for the crowd!

10:00AM – 6:00PM
KIDDIELAND OPEN

Kiddieland Amusement Park

11:00AM
BABY CONTEST

Lincoln Park,        Pavilion #1

Baby Contest Info:

For boys and girls, 6-24 months

REGISTRATION:

Before July 1st | $3.00
After July 1st – Day of | $5.00
Register at Lincoln Pavilion #3
Event at Lincoln Pavilion #1

1:00PM
BOCCE TOURNAMENT
Lincoln Park,
Bocce Courts
Info:

Pre-registration highly recommended through the PPRD offices at 710 W. 9th or via phone at 620-231-8310.
Day Of Registration – Register By 12:30 PM At The Info Booth, Lincoln Park Pavilion #3
Fee: $10.00 Per 2 Person Team

1:30PM
FREE YOUTH DISC GOLF CLINIC
Lincoln Park Disc Golf Course
Info:

Open to kids 17 and under. Participants meet near west side of Lincoln Center.

1:00PM – 5:00PM
$1 SWIM DAY
Pittsburg Aquatic Center, 708 W. 9th Street

Info:


Let FREEDOM ring! Celebrate Independence Day at the Pittsburg Aquatic Center! 




On this day, admission for each person is just $1.00! 



Anyone under the age of 3 is FREE!


2:00PM
FREE YOUTH FREEDOM FLING DISC GOLF TOURNAMENT
Lincoln Park Disc Golf Course
Info:

Open to kids 17 and under. Participants meet west of Lincoln Center.

6:00PM – 10:00PM
LIVE ENTERTAINMENT
J.J. Richards Band Dome
Live music by:

6:00PM – 8:00PM – COPPERHEAD
8:00PM – 10:00PM – STONE COUNTRY

10:00PM
FIREWORKS DISPLAY! 
Lincoln Park
Tune Into 96.9 FM For Display Music! 
Little Balkans Days Celebration
Dates: TBD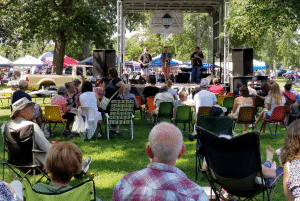 For more details, contact information or festival schedule, visit www.littlebalkansfestival.com/events/
Holiday Craft Fair

Date: TBD
Location: TBD
CRAFT FAIR INFO | TBD
Look no further for that unique gift for your special someone, friend or co-worker!
You will find it all here! Make this your one stop for all of your holiday shopping!
Shopper Admission: 1 non-perishable, unexpired food donation per person
VENDOR INFO
PPRD is inviting interested vendors to register for their space today! Tables, spaces and electric is limited so register early!
Vendor Setup: TBD
Craft Fair Hours: TBD
To register for a vendor space, call Pittsburg Parks & Recreation at 620-231-8310 to register by phone with a debit/credit card. Completed applications and pictures of vendor space to be sent to pprd@pittks.org.
Item
Fee

2021 Holiday Craft Fair Vendor Registration
CLOSED!

Online registration NOT available for this event.

8′ Table
TBD
Electric
TBD

Late Fee

(If Registered After TBD)

$10.00