City of Pittsburg July 4th Celebration
VENDOR INFORMATION
Online registration is currently open!
Our schedule of events is currently under review! Please check back often for updates!
JULY 3RD SCHEDULE OF EVENTS
TIME
EVENT
LOCATION
5:00 – 8:00 PM
KIDDIELAND OPEN
Kiddieland Amusement Park
Info:
Single tickets and punch cards available!
All rides, except train, require a single ticket. Train rides are two tickets per rider.
5:00 PM – DUSK
ARTS, CRAFTS & FOOD VENDORS
Lincoln Park
6:30 PM
BABY CONTEST
J.J. Richards
Band Dome
Info:
For boys and girls, 6-24 months
7:30 PM (Approx.)
ENTERTAINMENT: TBD
J.J. Richards Band Dome
JULY 4TH SCHEDULE OF EVENTS
TIME
EVENT
LOCATION
7:30 PM
FIRECRACKER 5K
Four Oaks
Golf Course
Info:
Register through the PPRD office at 620-231-8310 or 710 W. 9th, Pittsburg, KS.
Day of registration located at Four Oaks Golf Course, North side of club house.
First 50 runner registered receive a FREE celebration t-shirt!
Divisions: Male & Female; 1st- 3rd place medals
8:00 AM – DUSK
ARTS, CRAFTS & FOOD VENDORS
Lincoln Park
8:30 AM – 10:30 AM
FISHING DERBY
Lincoln Park
Info:
Thank you to our generous sponsors Kansas Department of Wildlife and Parks. No pre-registration; all participants will register and pay the day of the event.
Meet by the pond by the tennis courts in Lincoln Park/Four Oaks Golf Course.
Fee: $4.00 for Adults | $2.00 for Youth (Under 16)
Categories: Most Fish & Largest Fish in Adult and Youth Divisions
Prizes for 1st, 2nd and 3rd place in all divisions
Don't forget to bring your own fishing pole, bait and chair! 
9:00 AM
ROLLIN' NOSTALGIA
CAR SHOW
Don Gutteridge
Sports Complex
Info: For more information regarding the car show, contact Brad Hill at 620-231-8343 or by email at rollin-nostalgia@outlook.com.
Visit their website: http://sites.google.com/site/rollinnostalgia
9:00 AM
BICYCLE RIDE
Sponsored By Tailwind Cyclist
Meet at Lincoln Center, 710 W. 9th 

Ride Details:




Two ride distance options available: 10 miles OR 30 miles




Maps will be provided. 




Ride is unsupported meaning there is no one to call for help. Helmets are mandatory.




Riders should bring at least 1 water bottle.




For more information, contact Roger Lomshek at Tailwind Cyclist 620-231-2212.

TIME: TBD
ZUMBATHON
Lincoln Center
710 W. 9th Street
10:00 AM
PRIDE OF PETS DOG SHOW
Lincoln Park,
Pavilion #1
Info:
Pre-registration highly recommended!
10:00 AM – 8:00 PM
KIDDIELAND OPEN
Kiddieland Amusement Park
10:00 AM – 5:00 PM
RC AIRPLANE DEMOS
1/2 Mile West & 1 Mile North Of PIttsburg Municipal Airport
Visit the event page at TBD. 
11:30 AM
MOCK BATTLE
West Of The
J.J. Richards Band Dome
Presented by the 772nd National Guard Unit
SAFETY NOTE: Patrons may NOT pick up shells following the event, please remain behind the barricade line.
1:00 PM
BOCCE TOURNAMENT
Lincoln Park,
Bocce Courts
Info:
Pre-registration highly recommended through the PPRD offices at 710 W. 9th or via phone at 620-231-8310.
Day Of Registration – Register By 12:30 PM At The Info Booth, Lincoln Park Pavilion #3
Fee: $10.00 Per 2 Person Team
1:00 PM – 4:00 PM
LIVE ENTERTAINMENT
Lincoln Park,
Pavilion #1
1:00 PM – 5:00 PM
$1 SWIM DAY
Pittsburg Aquatic Center, 708 W. 9th Street
Info:


Let FREEDOM ring! Celebrate Independence Day at the Pittsburg Aquatic Center! 




On this day, admission for each person is just $1.00! 




Anyone under the age of 3 is FREE! 

4:00 PM – 10:00 PM
LIVE ENTERTAINMENT
J.J. Richards Band Dome
10:00 PM
FIREWORKS DISPLAY! 
Lincoln Park
Tune Into 96.9FM For Display Music! 
Paint The Town Red
Kids Fun Run
Friday, August 31, 2018
6:00 PM Registration / 6:30 PM Race
Race Starts and Ends at 5th Street & Broadway, Downtown Pittsburg
5K Race
Saturday, September 1, 2018
7:30 AM Registration / 8:00 AM 5K
Race will begin and end in front of Axe Library on PSU Campus
Fee: $35 (includes t-shirt), Shirts guaranteed if registered by August 6th
Pre-Registration for the Kids Fun Run and 5K events can be done online HERE. Registration forms can also be dropped by the Pittsburg Area Chamber of Commerce, 117 W 4th St by 5 PM on August  28th. For more information contact Dani Gosch at dgosch@pittsburgareachamber.com or 620-231-1000.
Little Balkans Days Celebration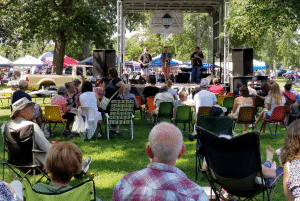 2018 Schedule Of Events: Little Balkans Days Festival Events
Dates: August 31 – September 2
Little Balkans Days Tennis Tournament
When: Saturday, September 1st
Where: Pittsburg High School Tennis Courts
Fees: Pre-register by August 31st: $10.00 per event/per person
Onsite Day of Registration: $13.00 per event/per person
Schedule: Play begins at 8:30 am. Players must check in @ PHS Tennis Courts by 8:15 am.
Tennis Balls: Players must furnish one can of new balls.
Deadline: Entry forms and fees must be received by 5:00 pm on Wednesday, August 29th
Mail forms to: Pittsburg Parks & Recreation, PO Box 688, Pittsburg, KS 66762
Draw: Matches will be scheduled as soon as registration closes. Divisions with less than four entries will be transferred to the next appropriate division or cancelled and refunded.
Scoring: Preliminary matches – 1 set to 9 games must win my 2 games. 12-point tiebreaker at 9-9. Final match – 2 out of 3 sets with no add scoring.
For pre-registration or additional information contact the Pittsburg Parks & Recreation Department at 620-231-8310 or stop by Lincoln Center at 710 W 9th Street.  Click HERE to download detailed information and rules.
Holiday Craft Fair & Santa's Workshop

Date: December 1, 2018
Location: Memorial Auditorium, 503 N. Pine
CRAFT FAIR INFO | 8:00AM – Noon
Look no further for that unique gift for your special someone, friend or co-worker!
You will find it all here! Make this your one stop for all of your holiday shopping!
Shopper Admission: 1 non-perishable, unexpired food donation per person
VENDOR INFO
PPRD is inviting interested vendors to register for their space today! Tables sizes, space and electric is limited so register early!
Vendor Setup: 7:00AM – 8:00AM
Craft Fair Hours: 8:00AM – Noon
Fees for spaces and application listed below.
SANTA'S WORKSHOP INFO | 9:00AM-12:00PM
Children will be able to play in Santa's workshop while you enjoy your holiday shopping! Kid's will be able to decorate an ornament, color pictures, and play games! A special guest visit from Santa is in the works too! 
Admission: 1 non-perishable, unexpired food donation