Pittsburg Beautiful announces April 2023 winners
City of Pittsburg
April 12, 2023
Pittsburg Beautiful is proud to present the Home and Business awards for 2023. This month we are featuring two businesses. One has completely changed an older property and the other has built a new building on an old empty site. The awards are: Jones Heritage Realty at 1002 S. Broadway and Comeau Jewelry Co. at 525 S. Broadway. Jones Heritage Realtors and Angeles Properties LLC have been on Broadway in their newly remodeled building for a year.
The Realty Company has been in business since 1905. It is important to Brian Jones and Monica Angeles, brokers, to maintain our property. "As the leading real estate company we believe we should lead by example. As active members of our community, we care about how our town looks. We are one of the first places people see when they come to town and are looking for homes. We want to make sure we are leaving them with a good impression. Several reasons why it is important for residents to keep their property nice are Property Values, Neighborhood Pride and Reputation."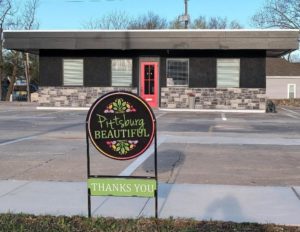 Comeau Jewelry, owned by Chad and Jill Comeau, opened their new building early last November on Broadway. They have been in business for 22 years at their previous location at the Mall. Chad feels it is important to maintain his property to keep community pride. He feels it is always pleasant to see clean prideful properties. "We can never have too much pride in Pittsburg!"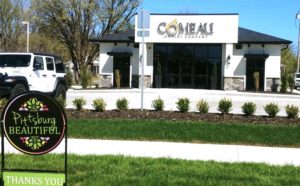 Thank you all for making Pittsburg Beautiful!
Nominate your neighbor! Pittsburg Beautiful recognizes those in our community who take pride in maintaining their homes and businesses.
Send your nominations to Pittsburg Beautiful c/o Pittsburg Parks and Recreation at P.O. Box 688, Pittsburg, Kansas 66762. Please include the property owner's name and address.