Painting Pittsburg
City Press Releases, General News
June 14, 2018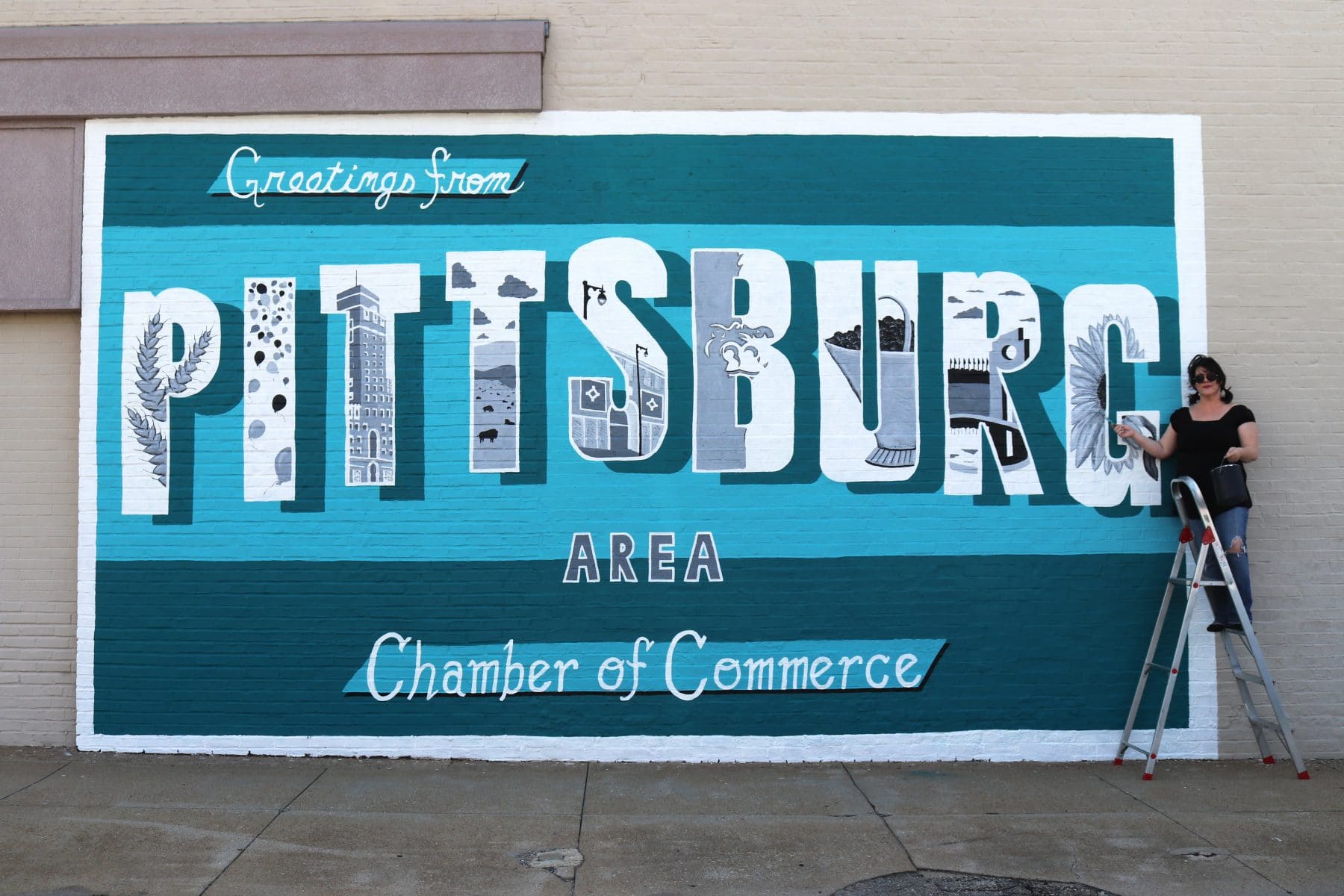 New mural welcomes visitors to downtown Pittsburg
By day, Jenna Spencer is a City of Pittsburg employee and the office manager for the Memorial Auditorium. She is responsible for scheduling and organizing numerous special events and performances at the theater, as well as managing and curating the Beverly Corcoran Art Gallery.
By night (or away from the office) Spencer is a volunteer and a talented artist. Her latest artwork is a large-scale mural, which is gaining the attention and admiration of downtown visitors.
For the past few weeks, Spencer has worked diligently to complete a painting on the Pittsburg Area Chamber of Commerce building, at the corner of 4th and Pine Street.
Reminiscent of an old-fashioned postcard, the colorful mural features the words "Greetings from the Pittsburg Area Chamber of Commerce" painted in crisp, white lettering. The word "Pittsburg," contains illustrations inside each letter, highlighting different characteristics of the southeast Kansas community.
"I have always loved the 'Greetings From' murals that are in major cities around the US," says Spencer. "I saw this as a perfect opportunity to create one."
Spencer drew inspiration for the chamber's mural design from iconic images in Pittsburg.
"In each of the letters that spell Pittsburg is an image that I connect with this area," says Spencer. "From the bison herd north of town to the iconic downtown buildings, this town inspires me and I love creating art based on it."
The project was made possible through a matching grant from SEK Art Fest, an organization for which Spencer volunteers. This painting is one of nine murals the art fest announced this year.
Pittsburg Area Chamber of Commerce President Blake Benson says he decided to participate in the project after seeing the other murals painted around town.
"When local artists and SEK Art Fest began adding murals downtown, it made us realize that the side of our building was pretty drab," says Benson. "We felt a mural would project the kind of progressive, welcoming first impression we want visitors to have of our community."
Benson says the mural has given their office some added publicity.
"We've received a ton of exposure on social media," said Benson. "Those in our community, along with out-of-town friends that follow us on social media, have enjoyed watching Jenna's progress."
Spencer says she appreciates the way community members are reacting to her work.
"My favorite part about painting the mural was the incredible support I got from passersby. People shout from their car windows, or stop to chat while walking by, or comment on social media. It just makes my heart grow!"
After just a few more final touches, Spencer says she plans to complete the mural this weekend.