THERE ARE CURRENTLY NO DOG OBEDIENCE CLASSES AVAILABLE !
15th Annual Dog Swim
2022 DATE TO BE ANNOUNCED !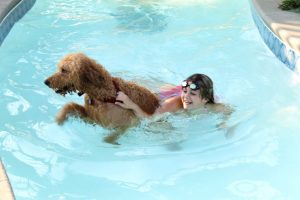 It's the dog days of summer! Before we drain the pool, it goes the dogs!
This event is held every year to close out the aquatic season so be sure to join us!
*Dog's current shot records must be provided prior to admission*
Time:
5:30pm – 6:30pm (Smaller Dogs/Less Than 40lbs)
6:30pm – 7:30pm (Large Dog/More Than 40lbs)
Fee:
$4.00 per dog | Human companions are FREE!
Location: Pittsburg Aquatic Center
---
Contact Information
Parks and Recreation
710 W. 9th St.
Pittsburg, KS 66762
Phone: (620) 231-8310 Fax: (620) 230-5636

Hours of Operation:
Monday - Friday
8:00 a.m. - 5:00 p.m.
Inclement Weather Hotline
(620) 232-PARK
(620) 232-7275