Public Safety Operations Sales Tax
As of November 30th, 2019
Revenues
The sales tax collected from the Public Safety Operations Sales Tax is slightly higher than projected as seen in the graph below. The City started collecting the sales tax in March 2014. To date, the City has received $11,638,029 and the amount in reserves for 2018 is $915,628, which has been used to supplement the current year expenses. Below is how the current reserve balance is figured:
 Year 4 (2017)
 Year 5 (2018)
Year 6 (2019)
Revenues
$  2,067,761
Revenues
$    2,029,795
Revenues
$  1,976,768
County Reimbursement
$       65,592
County Reimbursement
$         65,592
County Reimbursement
$    65,592
Reserves Year 3
$     602,880
Reserves Year 4
$      848,667
Reserves Year 5
$  915,629
Expenditures
($1,887,566)
Expenditures
  ($2,028,426)
Expenditures
($1,965,224)
Reserves
$     848,667
Reserves
   $   915,628

Reserves Balance:
$  992,765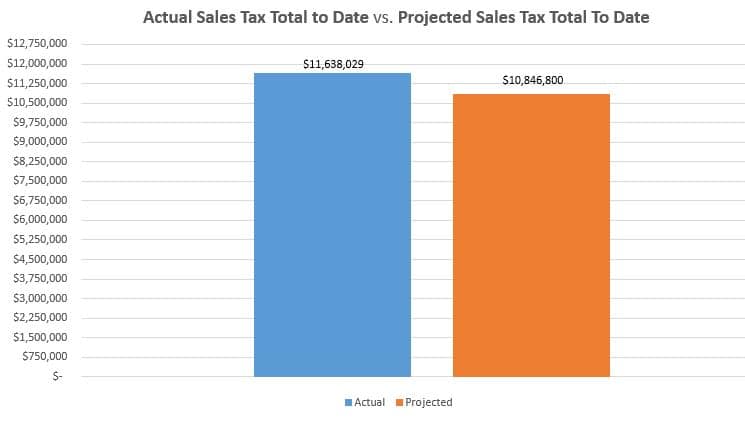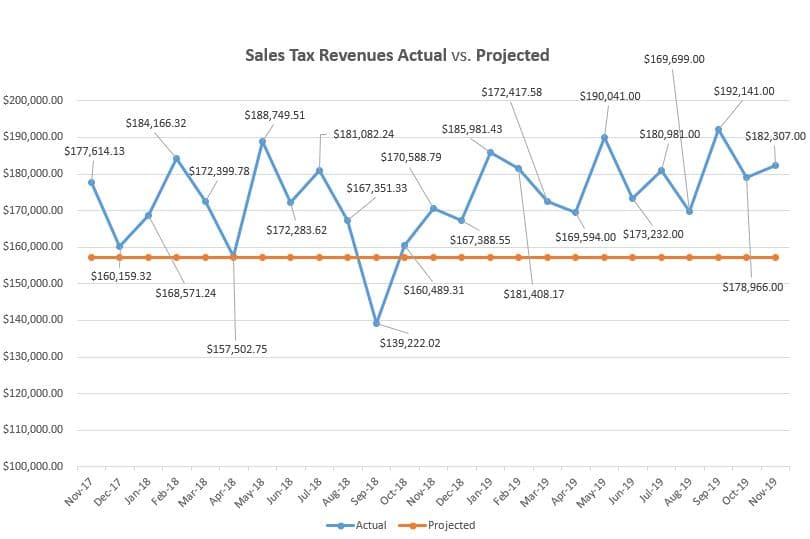 Revenues vs. Expenses
The sales tax received from the Public Safety Operations Sales Tax for the current month is $182,307 and the expenses for 2019 are $1,965,224.
Police Department
The focus of the Pittsburg Police Department's comprehensive plan for expending public safety sales tax funding is to increase department staffing levels, with an emphasis on placing additional resources in patrol and also creating specialty units; such as developing a crime analysis unit and a standalone narcotics unit. Additional funding will be used to replace antiquated equipment, particularly the department's current records management system.  This system, once acquired, will move the agency into the modern era of policing, commonly referred to as intelligence-led policing.  With additional staffing and state of the art equipment, the police department may better address our community's crime and social problems in a more effective and efficient manner. Currently, the Pittsburg Police Department has fully staffed the positions promised in the Public Safety Sales Tax.
Polygraph Machine
Tasers
Ammunition
Software, GIS Aerial Mapping
Investigations SUV
Records Management System Software
Network and Data Core Equipment
Uniforms
Vehicle Leases
SRT
Fire Department
There are four separate concentrations that are included in the public safety sales tax for the Pittsburg Fire Department.  The first item is the replacement of a 30-year old Fire Engine that will be located at Fire Station #1.  The second is the necessary replacement of our Self Contained Breathing Apparatus (SCBA) and air compressor.  The third item is the replacement of our protective structural firefighting bunker gear. The final component is additional funding for the necessary training of our Firefighters in emergency scene operations.
Bunker Gear
Self Contained Breathing Apparatus (SCBA)
New Fire Truck
Training
Thank you for supporting Public Safety!