Pittsburg Police Officer named Kansas Law Enforcement Torch Run state director
Police Department Press Release
December 18, 2017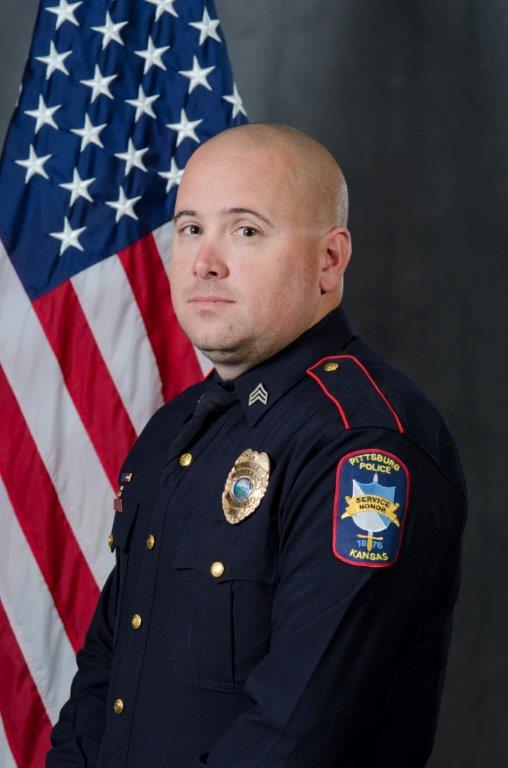 City of Pittsburg Police Officer Chris Moore has been appointed the Kansas State Director of the Law Enforcement Torch Run (LETR). As director, Moore will serve a three-year term and lead law enforcement fundraising activities for Special Olympics Kansas. The torch run raises awareness and funds for Special Olympics and connects law enforcement officers with Special Olympics athletes.
City of Pittsburg Police Chief Mendy Hulvey says Moore's dedication to Special Olympics makes him a perfect fit for this position.
"I have never met anyone more passionate and dedicated to a cause than Chris is to Special Olympics," said Hulvey. "He makes the department proud."
This isn't the first time Moore has been acknowledged for his work with Special Olympics. In 2014, he was inducted into the Richard LaMunyon Kansas Torch Run Hall of Fame, which recognizes outstanding individuals who significantly contribute to the statewide success of the torch run.
Moore says the best part of volunteering for Special Olympics is seeing the athletes achieve their goals.
"It's great to see the athletes included and involved – not singled out," says Moore. "I've seen the benefits of Special Olympics and how it shows that people with intellectual disabilities can succeed."
Chief Hulvey says Moore's work has made an impact on fundraising efforts at a local, state and national level.
"I have traveled with Chris to various Special Olympics events and I am always impressed with how well-known he is, both statewide and internationally," said Hulvey. "Chris embodies the mission of Special Olympics and works diligently to make sure our officers participate in all Law Enforcement Torch Run events. He makes every effort to ensure the Pittsburg Police Department will be the top fundraising department in the state."
As Special Olympics department coordinator, Moore has helped the Pittsburg Police Department raise tens of thousands of dollars for Special Olympics athletes. Each year, the Pittsburg Police Department hosts the torch run for Southeast Kansas Special Olympics spring track and field games and raises funds for the Special Olympics Polar Plunge.
From 2012 – 2015, Pittsburg was the top law enforcement fundraising agency in Kansas. In 2016, the Pittsburg Police Department raised more than $31,000, and held the second-place position after the Topeka Police Department.
According to Moore, these accomplishments reflect the generosity of the Pittsburg community, and their support of Special Olympics events.
"Even though we're a small agency, we can still raise a lot of money," says Moore. "It shows how much our community supports our local law enforcement and Special Olympics athletes."
About the Law Enforcement Torch Run
The Law Enforcement Torch Run for Special Olympics was created in 1981 by Wichita, Kansas, Police Chief Richard LaMunyon. Special Olympics athletes and law enforcement officers carry a torch known as the "Flame of Hope" into opening ceremonies of local competitions, and into Special Olympics State, National and World Games. The flame symbolizes courage and the celebration of diversity, uniting communities around the globe.