Pittsburg Police Department shares Halloween safety tips
City Press Releases, Police Department Press Release
October 24, 2018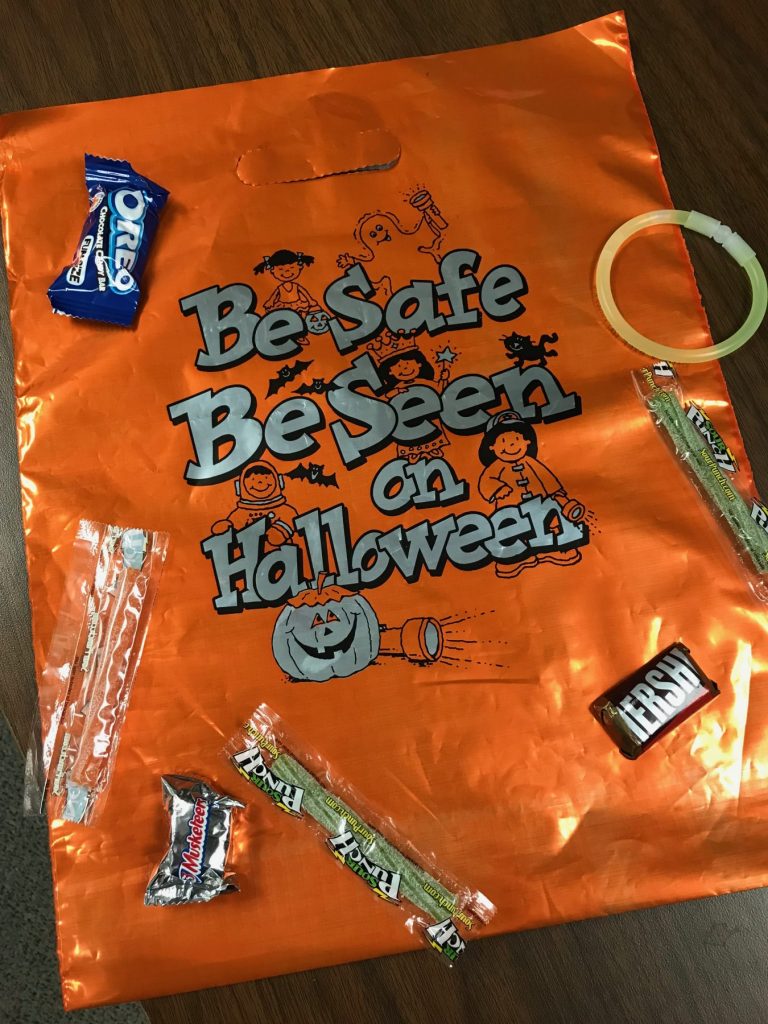 The Pittsburg Police Department is sharing Halloween safety tips and providing free trick-or-treat supplies to families in Pittsburg. The police department is giving away reflective bags and glow-in-the-dark bracelets to help keep kids safe this Halloween.
"Safety is usually the last thing on a kid's mind on Halloween," says Lt. Tim Tompkins. "They're more concerned with getting candy and are not always careful to watch for vehicles. These bags and bracelets will help motorists see trick-or-treaters clearly in the evening hours."
The bracelets glow green for six to 10 hours, keeping kids visible at night. The bags are made of a reflective Mylar material and feature the following safety tips on the back:
Wear a costume that fits so you don't trip over it.
Make sure your costume lets you see and hear well. If possible, wear face paint instead of a mask.
Choose a costume that is light in color or put "glow-in-the-dark" patches on so you are easily seen by motorists.
Carry a flashlight to help you see in the dark and to help others find you.
Cross the street at corners and never between parked cars.
Go trick-or-treating with a trusted grown up.
Visit only people you know, such as friends, neighbors and relatives.
Let a trusted grown up check all treats before you eat them.
The Pittsburg Police Department also advises safety precautions for motorists:
Slow down in residential neighborhoods, obey all traffic signals and be aware of children trick-or-treating during evening hours.
Watch for children walking on roadways and crossing the street.
Carefully enter and exit through driveways and alleys.
Neighborhoods with roads under construction can pose added risks for motorists and pedestrians. The police department advises families to avoid these areas when possible and plan ahead when choosing safe locations to trick or treat. South Rouse Street past Centennial Drive is still under construction and remains limited to one-way traffic. Potential hazards could include increased vehicle congestion, narrow lanes, new drivers unfamiliar with the construction zone, and more.
A list of safe trick-or-treat events in Pittsburg can be found on the City's website at pittks.org/trick-or-treat-2018.
Families can pick up the free Halloween bags and bracelets at the Beard-Shanks Law Enforcement Center at 201 N. Pine St. or at City Hall at 201 W. 4th St. between the hours of 8 am – 5 pm, while supplies last.
For more information, contact the Pittsburg Police Department at (620) 235-0400.