City Commission receives update on employee health plan
City Press Releases
October 16, 2019
PITTSBURG, KS – A recent report from the City of Pittsburg's health insurance consultant IMA, Inc. shows that the City's decision to change health insurance providers is paying off. Representatives from IMA, Inc. attended the City Commission meeting held on Tuesday, October 8, and updated commissioners on the City's employee health insurance plan.
"I am excited to share that for the fifth year in a row, we do not have any increases to our premiums for our employee benefits, which is unheard of in this industry," said City of Pittsburg Director of Human Resources Michelle Ducre.
In 2015, Pittsburg was faced with double-digit increases in health insurance premiums from its long-time health insurance company. Possible solutions to this problem included raising taxes, raising employee contributions, reducing service levels, or changing models completely.
By working with a consultant to analyze their plan, City staff determined there was a more affordable way to provide health insurance to employees, retirees and their families. Nearly five years after switching to a new model, the City has saved hundreds of thousands of taxpayer dollars, while providing employees with the same level of health insurance coverage.
"We were able to keep employee rates again flat this year, which is unheard of," said Christy Powell, Vice President of IMA, Inc.
In her presentation to the commissioners, Powell shared that the City's insurance claims are currently running 24 percent lower than expected, compared to the current benchmark for municipalities. "Usually, we're not telling that same story," she said.
The City of Pittsburg employee health insurance plan is self-funded, which means the City pays all the costs for its plan members, with the exception of member responsibilities like copays and deductibles.
Since the change was made in 2015, Pittsburg's medical and pharmacy costs have dropped an average of 13 percent each year. This decrease in costs resulted in significant savings to the City's health plan reserve funds.
"You can see that your reserves were at about $100,000, and they're up to over $900,000 now in your claim reserve fund," said Powell.
Employees and retirees taking advantage of the City's health plan have also been able to maintain their primary care physicians, and contracts were established with the hospitals in the area to allow for emergency services to continue uninterrupted.
City Manager Daron Hall gave the credit for these positive results to the City's finance and human resources staff, consulting team, and local healthcare partners.
"I'm really proud of the work Finance Director Jamie Clarkson and his team have done on this important issue," said Hall. "Their ability to find an affordable solution for the taxpayers that preserved the high level of service for our employees and their families is appreciated. It is consistent with the level of work they do each day. We also appreciate the willingness of our local hospital Ascension Via Christi to work with us to find affordable healthcare options."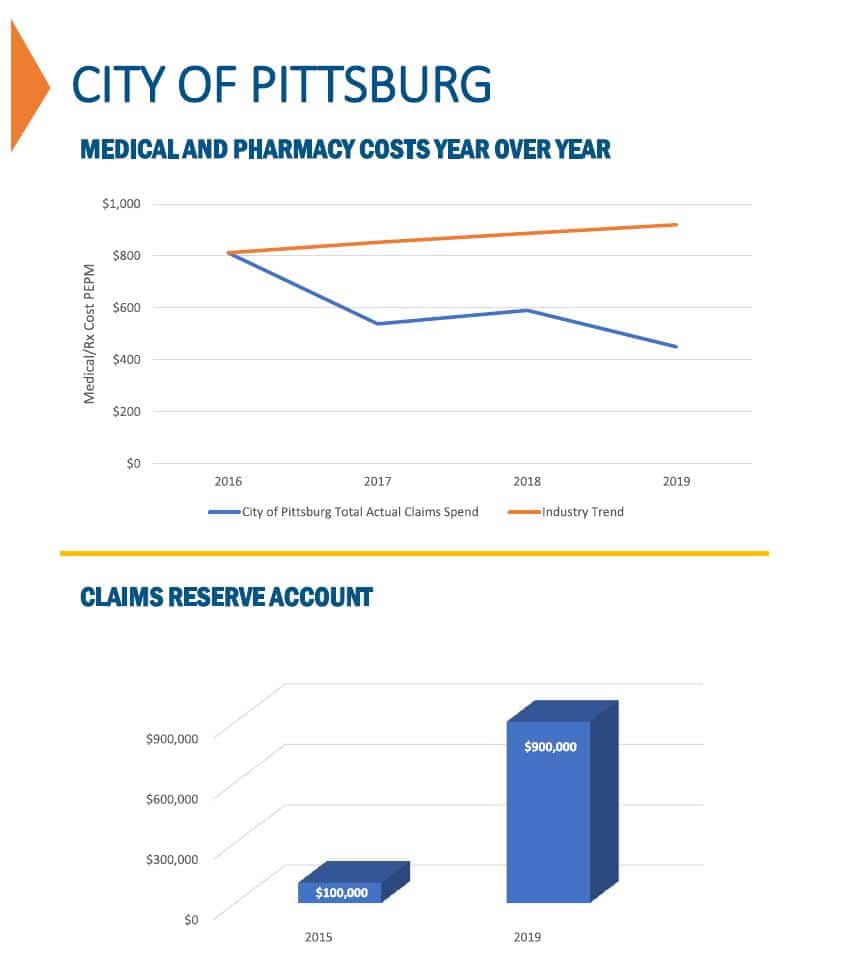 ###
The mission of the City of Pittsburg is to provide exceptional services, facilities and activities with integrity, professionalism, excellent customer service and a commitment to economic vitality.