Pittsburg Police Department donates Christmas stockings to families in need
City Press Releases, Police Department Press Release
December 22, 2017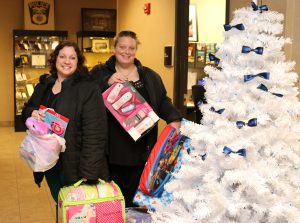 Pittsburg families in need will receive a little extra Christmas cheer this week, thanks to the City of Pittsburg Police Department. Police department staff organized multiple holiday fundraisers to provide 16 families and more than 50 children in Pittsburg with Christmas stockings stuffed with candy and gifts.
For the past two years, Child Advocates Charleen Workman and Katie Douglas have organized the charity drives to benefit families who receive services through the police department's child advocacy program. Police department staff held a no-shave November fundraiser and collected gift items to fill the Christmas stockings.
Child Advocate Charleen Workman says they started the fundraisers last year and plan to continue the holiday tradition.
"We have so many families in need during the holiday season, so we decided to do no-shave November and a Christmas tree fundraiser," said Workman.
Recipients of the stockings are identified through referrals to the police department's child advocacy program, which benefits families with children in the Pittsburg community struggling with poverty. Police officers, local schools, the Kansas Department for Children and Families, the Community Health Center of Southeast Kansas and other agencies refer families to the program. Throughout the year, child advocates connect families with the support services and community resources they need.
The Christmas stockings will be delivered this week, just in time for the Christmas holiday. Each child will receive one Christmas stocking with a pair of pajamas, one toy and candy.
Workman says the police department builds strong relationships with these families, and it makes delivering the stockings a rewarding experience for their staff and for the children.
"We have relationships with many of these families and we see their struggles," says Workman. "We know these families personally and we want to do something for them. It means a lot for us to be able to give them a little something for Christmas."