Major Brent Narges appointed interim police chief
City Press Releases, Police Department Press Release
April 20, 2018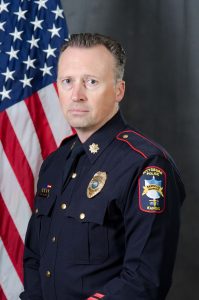 The City of Pittsburg has announced that Major Brent Narges has been appointed interim chief of police for the City of Pittsburg Police Department. Narges will succeed Chief of Police Mendy Hulvey, who announced her retirement in March, effective June 29, 2018.
"Brent is a Pittsburg Police Department veteran, who understands our community and will work well with Chief Hulvey as she transitions into retirement," says City Manager Daron Hall.  "He is well-respected by our officers and community, and I appreciate his willingness to step into this important role."
Narges has served 22 years with the Pittsburg Police Department and 14 years in his previous role as deputy chief of police.