June Pittsburg Beautiful Awards
City Press Releases
June 12, 2023
Pittsburg Beautiful is pleased to announce its June awards. The homes are Tom and Angela Swartz, 712 S. Catalpa, and Brenda Hawkins and Steve Sigler, 418-420 W. Jefferson. The Business Award goes to The Corner Patio, 919 N. Broadway.
Tom and Angela Swartz, 712 S. Catalpa have owned their home for five years and spend about two hours weekly maintaining the property. They said, "We think it is important to take pride in your property and to maintain and enhance its appearance. It's much easier to keep property up than to fix and clean it up if it gets overgrown and out of control." They feel that keeping their property looking nice adds value to our city by showing our citizens and guests that we are welcoming and take pride in our city. They hope to set an example for other residents and appreciate the recognition from Pittsburg Beautiful.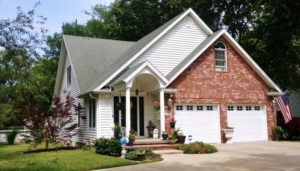 This one hundred-year-old home at 418-420 W. Jefferson has been brought back to life by its owners Brenda Hawkins and Steve Sigler over the past two years. It is one of the historic duplexes in Pittsburg. The 1925 home has been transformed both inside and out with many original features refurbished and preserved. The owners spent most of the time on the home to make it habitable. All but 6 of the 77 windows were taken out and repaired, wooden floors were refinished, installed all new wiring, heat/air, plus much more to bring this home to twenty-first-century living. They believe "it is important to maintain a property."
The Corner Patio, owned by Dexter and Jennifer Neisler, has been open for 4 months on the corner of Broadway and 10th St. They spend 40+ hours a week working on their property. "We feel it is important to maintain your property to enhance the value of our community." They felt the need to purchase the property to benefit our city. "Taking pride in one's business helps promote future growth in our community. We would like to thank Pittsburg Beautiful for recognizing all the hard work we put into our property."
Thank you all for making Pittsburg Beautiful!
Nominate your neighbor! Pittsburg Beautiful recognizes those in our community who take pride in maintaining their homes and businesses. Send your nominations to Pittsburg Beautiful c/o Pittsburg Parks and Recreation at P.O. Box 688, Pittsburg, Kansas 66762. Please include the property owner's name and address.