Jaycee Ballpark Gets a Facelift
City Press Releases, Parks and Recreation
February 22, 2018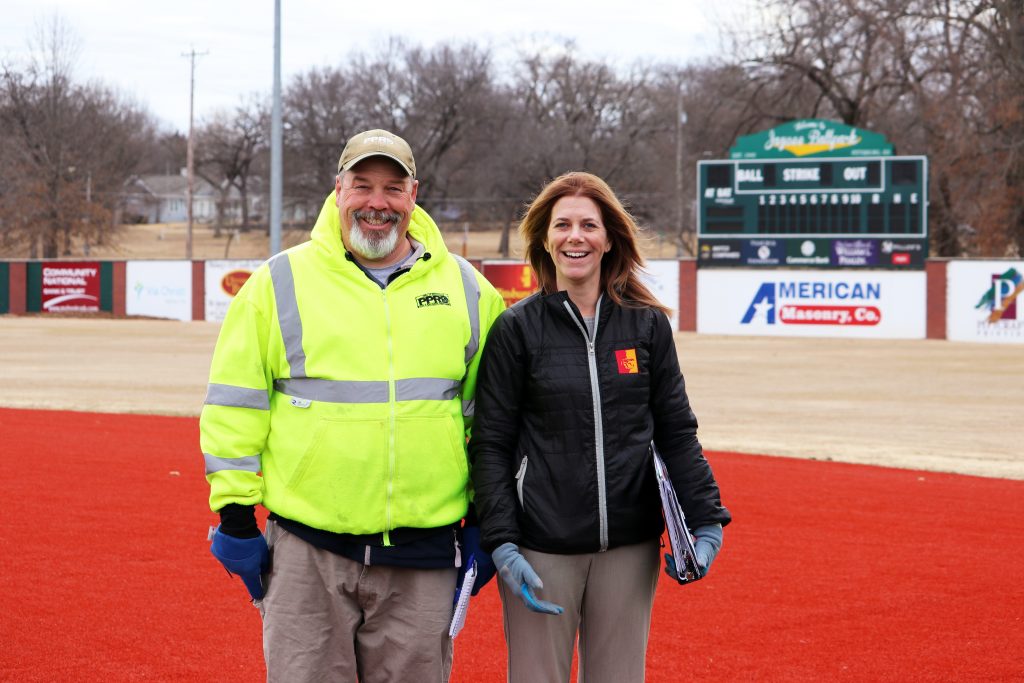 The grass outside might still be brown, but Jaycee Ballpark is sporting a new shade of vibrant green.
Brand new synthetic turf was recently installed at the ball field, part of a larger improvement project which began in December of 2017. Several other noticeable enhancements have been made, including a new scoreboard, new canopy, improved lighting over the grandstands, brick façade work, tuck-pointing and more.
The ball field will also receive new backstop netting, backstop padding, dugout fronts, dugout gates, and fencing in bullpen areas, in addition to painting and tuck-pointing.
Funding for the project comes from the City's Jaycee Ballpark maintenance reserves, a lease purchase from the City's sales tax capital outlay fund, and private donations.
Considered one of the premier baseball stadiums in the region, Jaycee Ballpark continues to attract visitors every year to enjoy the game of baseball.
City of Pittsburg Director of Parks & Recreation Kim Vogel says the much-needed improvements are vital to maintaining a quality recreational facility for the thousands of fans who visit the baseball field on an annual basis.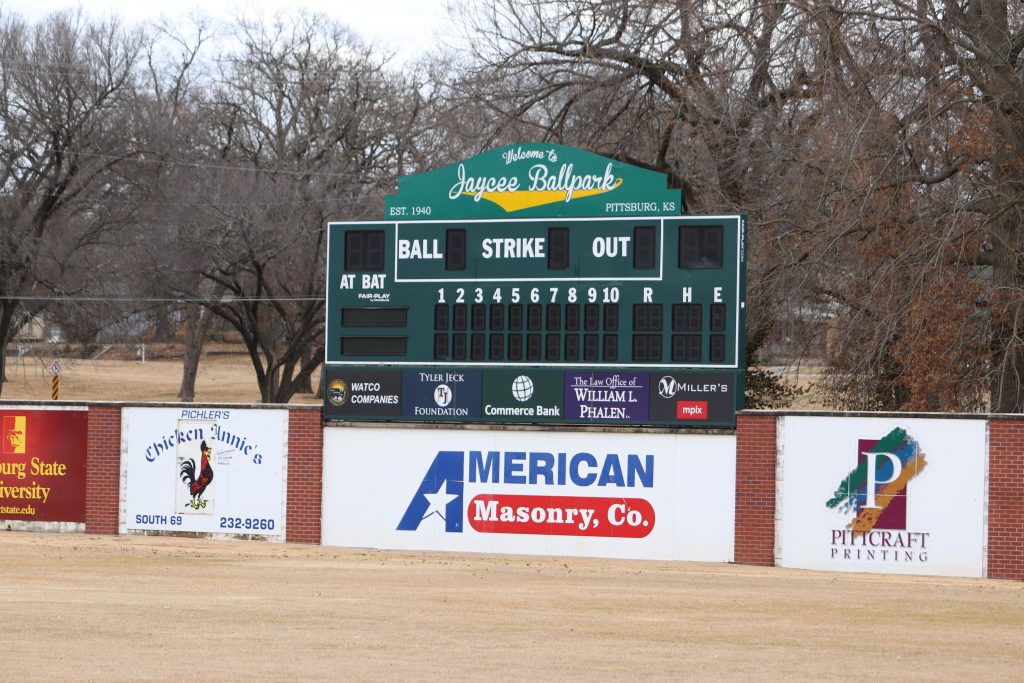 "Aside from being home to the Pittsburg Dragons and St. Mary's-Colgan Panthers, this facility hosts 250 – 300 ball games annually, attracting 20,000 – 25,000 visitors each year," says Vogel. "It is important that we keep the tradition of great baseball alive in our community."
Built in the early 1940s, Jaycee Ballpark has hosted countless baseball tournaments over the years, and was once home to teams like the 1946 Pittsburg Browns, a Class D farm club of the St. Louis Browns. In addition to its historic and cultural significance, the ball field offers a unique tourism draw.
Crawford County Convention and Visitors Bureau Director Devin Gorman says sporting facilities like Jaycee Ballpark provide a significant economic benefit to Pittsburg and the surrounding communities.
"We are fortunate to have a premier facility like Jaycee Ballpark in Pittsburg," says Gorman. It allows us to host a variety of baseball tournaments throughout the year, which bring thousands of visitors to our area from across the United States. The economic impact generated from Jaycee is both substantial and impactful."
Work is scheduled to be completed on Jaycee this spring, just in time for baseball season.
Field turf give-away
Now that there's brand new turf at Jaycee Ballpark, people might wonder what's happening to the old turf.
Approximately 43 rolls of the used field turf is being given away to the public on a first-call, first served basis, by appointment only. The rolls of turf vary in size from 9 ft. – 13 ft. wide by 35 ft. – 55 ft. long. These large rolls require a trailer to transport and City staff will help load. There is a 5-roll limit per person. Anyone interested in the turf can schedule pick up by calling Kim Vogel at (620) 230-5538 or Toby Book at (620) 230-5506.