Governor Kelly attends ribbon cutting for the City of Pittsburg North Walnut Street project
City Press Releases
May 17, 2019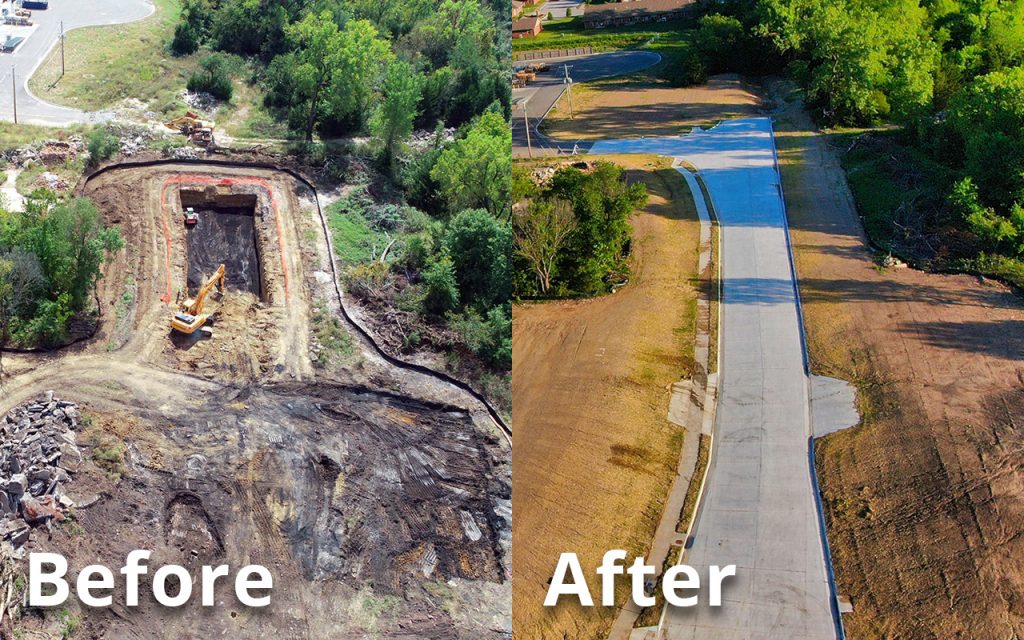 PITTSBURG, KS – A former zinc-smelting property, deemed unsafe and unusable for generations, has been put back into productive use thanks to a coordinated environmental cleanup effort between the City of Pittsburg and the Kansas Department of Health and Environment (KDHE).
On Thursday, May 16, Kansas Governor Laura Kelly joined City officials for a special ribbon cutting to celebrate the remediation project and the extension of North Walnut Street between West 28th and West 29th Streets in Pittsburg.
The ceremony attracted a number of state government officials including Kansas Representative Monica Murnan, KDHE Secretary Dr. Lee Norman and KDHE Bureau of Environmental Remediation Director Bob Jurgens. Project engineers Olsson Associates and contractors Heck & Wicker joined local property owners Bob and Sandra Boys, Norman Miller, neighboring businesses, and a number of other stakeholders at the event.
The North Walnut Street extension concludes a five-year environmental remediation project to clean up metal contamination left behind by the old Weir City Zinc Works company. The smelting plant operated on North Broadway Street in Pittsburg from about 1880 until 1920.
The long-abandoned property was identified by KDHE as an orphan site, meaning entities responsible for the pollution are unknown, unwilling or unable to pay for its remediation. This situation proved challenging for the current landowners and City officials.
"The owner of the property to the east and west, Bob Boys, came to my office about five years ago with a stack of environmental studies a foot thick," said Pittsburg Deputy City Manager Jay Byers. "The results of those studies made it almost impossible for Bob to take advantage of what should be valuable commercial property."
City and KDHE staff worked closely with property owners to identify available programs and funding, develop a remediation plan, coordinate environmental work, bid contracts and complete construction on the new roadway.
The extension of North Walnut Street provides much-needed transportation access to businesses like Tractor Supply Co. It also opens up four new parcels that are now ready for commercial development.
"This is an example of how things should work," said Byers. "It shows genuine effort by the public and private sectors, federal, state and local government bearing and sharing responsibility, and property owners and consultants productively engaged throughout the process."
KDHE Secretary Dr. Lee Norman congratulated City, state and local stakeholders during the ceremony.
"This is a shining example of the cooperation that can lead to a healthy environment," he said.
Governor Kelly spoke about the environmental and economic benefits of the project and recognized local property owners, City and state officials and stakeholders for their willingness to collaborate with one another.
"I do want to recognize the team effort and the leadership that went into this project," Kelly stated. "Those efforts set an example for other communities."
"When motivated individuals work together, no matter how difficult it is, to better their communities, we do see real results like this," she said.
###
The mission of the City of Pittsburg is to provide exceptional services, facilities and activities with integrity, professionalism, excellent customer service and a commitment to economic vitality.