City of Pittsburg Bulky Item Pickup dates announced
City Press Releases
April 14, 2023
The City of Pittsburg will conduct its annual bulky item pickup starting Monday, April 24, and continuing through Monday, May 22 in the four quadrants of the city. Residents inside the Pittsburg city limits can register to participate.
Items to be collected include mattresses or box springs, recliners, lounge chairs and couches, and wooden furniture (dressers, shelving, etc.).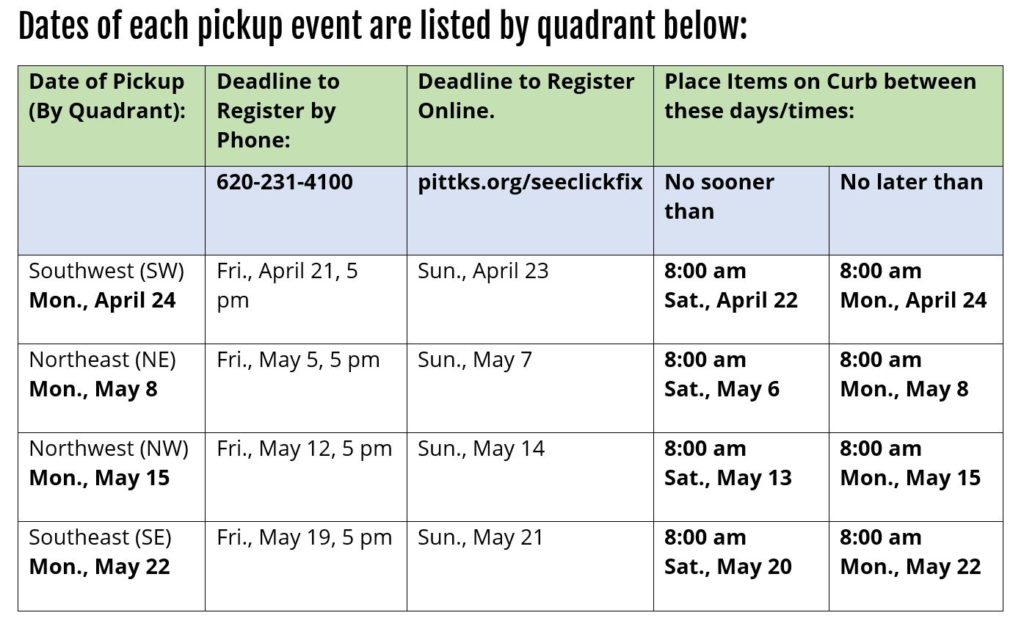 Residents must sign up by the Sunday before their quadrant's pickup date in order to guarantee their items are collected. City staff will collect items starting at 8:00 am on the posted date, and will continue until all registered addresses are completed. Items to be picked up should be placed on the curb no sooner than 8:00 am on the Saturday before the cleanup date. Items must be in front of the listed address against the street curb. For residences with ditches, please place items at edge of driveway on flat, level ground.
Find My Quadrant:
The four quadrants of the city are divided north and south by Broadway, and east and west by Fourth Street. See map to easily identify your quadrant.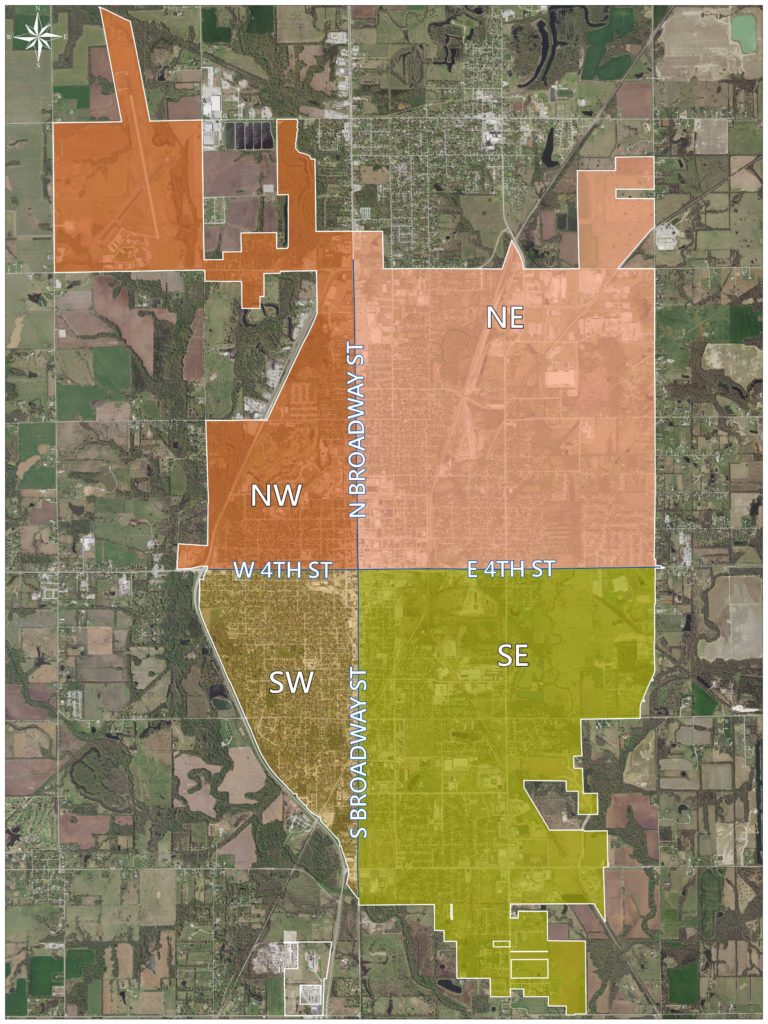 How to Register:
Online: Download the city's SeeClickFix app for mobile or desktop, and submit a ticket using the "Bulk Item Special Pick Up Day" category. Visit https://www.pittks.org/seeclickfix/ to get started.
Over the phone: Call Customer Service at (620) 231-4100 between the hours of 8:00 am until 5:00 pm. All participants must provide their phone number, email address, and water account number.
Items accepted:
Mattresses or Box Springs
Recliners, Lounge Chairs and Couches
Wooden Furniture (Dressers, Shelving, etc.)
Items NOT accepted through this program: *
Limbs or brush
General household waste or trash
Carpets or flooring
Lumber, gypsum product, or construction debris of any kind
Electronic waste such as TVs, computers, etc.
Hazardous waste
White goods (refrigerators, hot water tanks, washers, dryers, etc.)
Playsets
*Items listed above that are left out will not be picked up and will be considered a code violation if left out after three days.
For questions about this program, contact City Hall at (620) 231-4100.
###
The mission of the City of Pittsburg is to provide exceptional services, facilities and activities with integrity, professionalism, excellent customer service and a commitment to economic vitality.