Upcoming Shows & Events
Pittsburg Community Theatre Presents:
"You're a Good Man, Charlie Brown"
AUDITIONS JANUARY 8th & 9th @ 7pm
SHOW DATES:
 March 9th & 10th @ 7:30pm                                                                                                                                                                                                   March 10th & 11th @ 2:00pm
Tickets: $12-Adults / $10 Seniors & Children / $8 Balcony
Tickets on Sale February 19th @ 8:30am!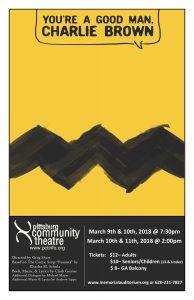 Midwest Regional Ballet Presents: "Cinderella"
 April 12th-14th @ 7:30pm                                                                                                                                                                                                           April 14th &15th @ 2:30pm
Tickets On Sale March 19th @ 8:30am!
$15-Adults / $12 Seniors 65-Children 13 / $10-Balcony GA

Beverly Corcoran Art Gallery
ARTFORMS Gallery EXHIBIT on display for the month of FEBRUARY!!
Artist Reception will be held:
FRIDAY, FEBRUARY 23rd 6pm-8pm
Want to display art in our gallery for a month, free of charge? Call us for availability!
View our Calendar of Events to find details on upcoming events, performances, and so much more!
Find details on how to get to our convenient downtown location from surrounding hotels and airports along with parking options while attending an event.
---
Contact Information
Memorial Auditorium Convention Center
503 North Pine
Pittsburg, KS 66762
Phone: (620) 231-7827 Fax: (620) 231-5967

Hours of Operation:
Monday - Friday
8:00 a.m. – 5:00 p.m.