Upcoming Shows & Events
April in the Beverly Corcoran Gallery
Bob Laushman GALLERY EXHIBIT
Come visit the Beverly Corcoran Gallery in April to see the wonderful works of Bob Laushman! We will be hosting an Art Walk event on Friday, April 26th from 5pm-9pm with live music, cash bar, and ART!
April 1
PCT's Jr. Starz Children's Theatre Workshop Registration OPENS
Workshop Dates: June 10-21, 2019
Show Date: June 21
Open to children ages 6-12 years old
Each summer for many years, PCT has supported Jr. Starz, an intensive, two-week children's theatre workshop that culminates in a performance for the community.
Our 2019 theme and show:
"We Are Monsters!"
Directed by Megan Potter Gabehart
Session 1 – 8 a.m. to noon (show is June 21 at 6 p.m.)
Session 2 – 1 p.m. to 5 p.m. (show is June 21 at 8 p.m.)
Fee: $50 per child (includes instruction, snacks, supplies, and a t-shirt).
Enrollment is limited to the first 40 children per session.
Signup: 
Online Register Here
At the Memorial Auditorium M-F 8am-5pm 
Call the Memorial Auditorium @ 620-231-7827 M-F 8am-5pm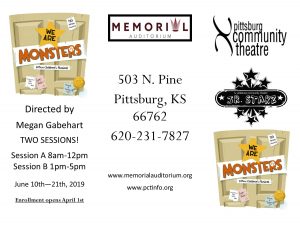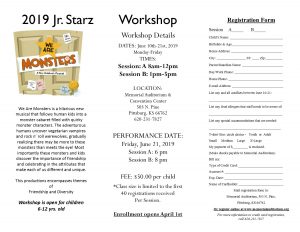 ELEMENTARY SCHOOL SPRING CONCERTS
APRIL 15TH @ 7PM  LAKESIDE
APRIL 16TH @ 6:30PM GEORGE NETTELS
APRIL 18TH @ 6:30PM MEADOWLARK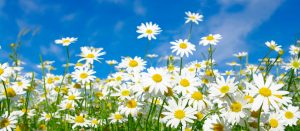 April 24-26
PHS Theatre's Social Issue Play "Invitation Only"
April 24 @ 7pm Public Performance
April 25 & 26 @ 9:30am School Performances.
If your school is interested in coming to a show please contact us.
April 24 @ Noon
Mosaic's "Partners in Possibilities" Luncheon Fundraiser
Please contact Mosaic @ 620-231-5590 for reservations
April 27 @ 10am
PPRD's Dance & Baton Recital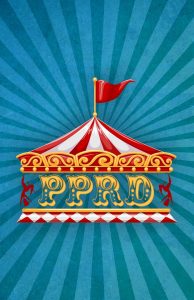 MAY 1 @ 6pm
Pittsburg High School's "FEAST & FOLLIES"
Fundraiser Event for PHS Performing Arts Students and Teacher Mini Grants
MAY 2 @ 6pm
PAYP PATRIOTIC PAINT PARTY
Pittsburg Area Young Professional Cost $25
Community Members Welcome!!! Cost $30
Cash Bar Available!
MAY  4 & 5
NEXSTAR DANCE COMPETITION
Memorial Auditorium will be hosting NEXSTAR Dance Competition. To Register your dance company please click the link below.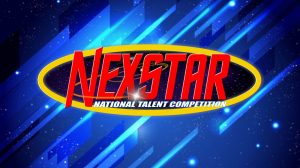 May 7 @ 6pm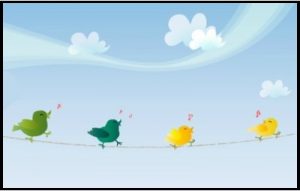 MAY 16 10am-4pm
City of Pittsburg Blood Drive
Call 620-231-7827 to make your appointment today!
MAY 20 & 21 @ 7pm
PCT  "NEWSIES" AUDITIONS
Performances: July 18-20 @ 7:30pm July 20 & 21 @ 2pm
TICKETS ON SALE SOON!!!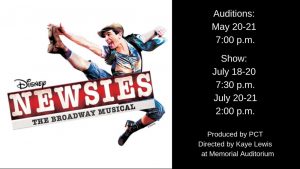 Join us for Disney's rousing tale of Jack Kelly, a charismatic newsboy and leader of a band of teenaged "newsies." When titans of publishing raise distribution prices at the newsboys' expense, Jack rallies newsies from across the city to strike against the unfair conditions and fight for what's right!
Directed by Kaye Lewis. Based on the Disney film written by Bob Tzudiker & Noni White.
Ticket sales will begin in June at www.memorialauditorium.org or at the box office, 503 N. Pine, or by calling 620-231-7827.
Tickets: Adults $12, Seniors/Children 13 & Under $10, GA Balcony $8
June 1
Y ACADEMY OF DANCE RECITAL
More info coming soon!

OCT. 3-6
PCT Presents: "FOX ON THE FAIRWAY"
AUDITIONS JULY 29 & 30 @ 7pm
Join us for an hilarious romp that pulls the rug out from underneath the stuff denizens of a private country club — a tribute by comic playwright Ken Ludwig to the great English farces of the 1930s and 1940s.
Directed by John Mazurek
​
Ticket sales will begin in September at www.memorialauditorium.orgor at the box office, 503 N. Pine, or by calling 620-231-7827. Tickets: Adults $12, Seniors/Children 13 & Under $10, GA Balcony $8
View our Calendar of Events to find details on upcoming events, performances, and so much more!
Find details on how to get to our convenient downtown location from surrounding hotels and airports along with parking options while attending an event.
---
Contact Information
Memorial Auditorium Convention Center
503 North Pine
Pittsburg, KS 66762
Phone: (620) 231-7827 Fax: (620) 231-5967

Hours of Operation:
Monday - Friday
8:00 a.m. – 5:00 p.m.