Upcoming Shows & Events
FEBRUARY in the Beverly Corcoran Gallery
ART FORMS GALLERY EXHIBIT

Come and meet the talented artists from ArtForms Gallery (Pittsburg's Local Downtown Gallery). Friday, February 8th from 5pm-7pm at the Memorial Auditorium's Corcoran Gallery. Refreshments will be served along with a cash bar.
FEB. 9 @ 3pm or @ 6:30pm
PPRD's DAD & DAUGHTER DATE NIGHT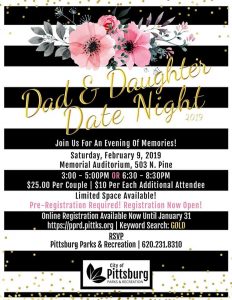 Sign up through Pittsburg Parks and Recreation 620-231-8310
FEB. 14-16 @ 7:00pm FEB. 16 &17 @ 2:00pm
PHS Theatre Presents: "FOOTLOOSE"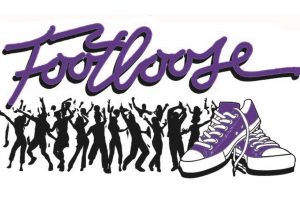 FEB 18th & FEB 22nd  from 9:30am – 12:30am
ART PARTS – Art Camp for Kids Ages 5-12
Cost for art camp is $38
MARCH 1 @ 7:30pm
45th Annual JAZZ FEST Featuring: The Vanguard Jazz Orchestra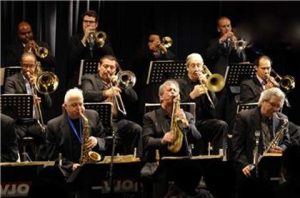 MARCH 2nd @ 5pm
PSU International Student Food and Culture Fair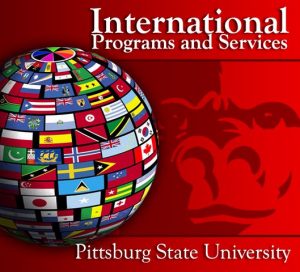 MARCH 6 @ 6pm
PAINT PARTY for ART WALK
Art Walk, The Memorial Auditorium, and Jenna Spencer are collaborating to raise money for the 2019 Pittsburg Downtown ART WALKS! Join us on March 6th for a Paint Party in the Lower Level of the Memorial Auditorium. Cost is $30 and includes all painting supplies and instruction. We will have a cash bar open if you would like to sip while you paint! Come and join us for this great cause!
MARCH 9-10
FURY DANCE COMPETITION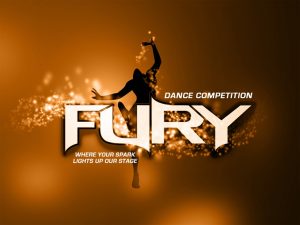 The Pittsburg Memorial Auditorium is hosting it's 1st ever DANCE COMPETITION! To register please contact Fury by clicking the link below.
MARCH 29-31
PCT Presents: "M*A*S*H"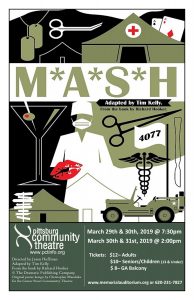 Join us for a wild, free-flowing comedy that follows two unpredictable madcaps, Hawkeye and Duke, as they campaign to get a young Korean to the U.S. and entered into a good school. The thread of this effort helps tie together the pileup of comic adventures that pyramid right before your eyes.
​Ticket sales will begin in February at www.memorialauditorium.org or at the box office, 503 N. Pine, or by calling 620-231-7827. Adults $12, Seniors/Children 13 & Under $10, GA Balcony $8
Adapted by Tim Kelly from the book by Richard Hooker
TICKETS ON SALE IN MARCH
APRIL 11-14
MRB Presents: "CATS"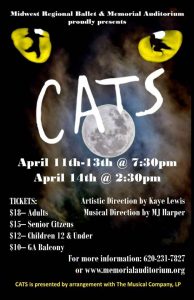 View our Calendar of Events to find details on upcoming events, performances, and so much more!
Find details on how to get to our convenient downtown location from surrounding hotels and airports along with parking options while attending an event.
---
Contact Information
Memorial Auditorium Convention Center
503 North Pine
Pittsburg, KS 66762
Phone: (620) 231-7827 Fax: (620) 231-5967

Hours of Operation:
Monday - Friday
8:00 a.m. – 5:00 p.m.