Upcoming Shows & Events
JULY 18-20 @ 7:30pm & 20-21 @ 2pm
PCT Presents: "NEWSIES"
Join us for Disney's rousing tale of Jack Kelly, a charismatic newsboy and leader of a band of teenaged "newsies." When titans of publishing raise distribution prices at the newsboys' expense, Jack rallies newsies from across the city to strike against the unfair conditions and fight for what's right!
Directed by Kaye Lewis. Based on the Disney film written by Bob Tzudiker & Noni White.
TICKETS ON SALE NOW! at www.memorialauditorium.org or at the box office, 503 N. Pine, or by calling 620-231-7827.
Tickets: Adults $12, Seniors/Children 13 & Under $10, GA Balcony $8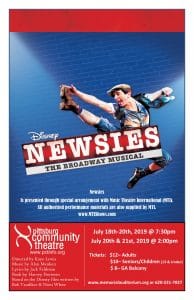 JULY 25-AUG. 18
JUST OFF BROADWAY MUSICAL THEATRE CAMP
"LION KING JR."
REGISTRATION BEGINS: MAY 20
AUDITIONS: JULY 25
CAMP: JULY 31 – AUG. 18
SHOWS: AUG. 17 @ 2pm & 7pm AUG. 18 @ 2pm
The Lion King JR. tells the story of the epic adventures of a curious cub named Simba as he struggles to accept the responsibilities of adulthood and his destiny as king. Along the way, the young lion encounters a colorful cast of characters including spunky lioness Nala, charismatic meerkat Timon, and loveable warthog Pumbaa. To claim his rightful place on the throne and save his beloved Pridelands, Simba must find his inner strength and confront his wicked Uncle Scar.
The Lion King JR. features classic songs from the 1994 film such as "Hakuna Matata" and the Academy Award®-winning "Can You Feel the Love Tonight" as well as additional songs penned for the Broadway production.
Workshop is open for children  6th-10th  Grades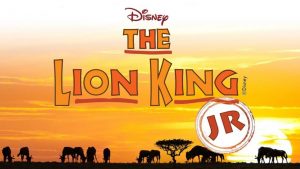 AUG. 2 @ 6pm
Pittsburg Public Library's Summer Reading Party
A Universe of Stories Summer Reading Program Wrap Party for kids and young adults will be held on Friday, August 2nd at Memorial Auditorium, lower level.
Doors open at 5:45 p.m. and the party starts at 6:00 p.m. Ice cream, brownies, and drinks will be served. Every participant who attends will receive a free book!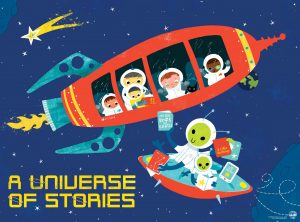 AUG. 30-31
Little Balkans @ the Memoiral Auditorium
QUILT SHOW – PETTING ZOO – PHOTO CONTEST – DUKE MASON BAND
GET YOUR TICKETS FOR TRAIN RIDES  & THE WINE & SPIRITS EVENT (events not @ Memorial Auditorium. Only tickets sales)
SEPT. 26-28 @ 7:30pm & 29 @ 2pm
PCT Presents: "FOX ON THE FAIRWAY"
AUDITIONS JULY 29 & 30 @ 7pm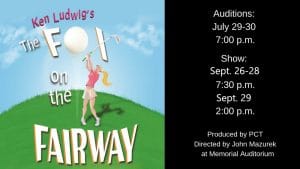 Join us for an hilarious romp that pulls the rug out from underneath the stuff denizens of a private country club — a tribute by comic playwright Ken Ludwig to the great English farces of the 1930s and 1940s.
Directed by John Mazurek
​
Ticket sales will begin in September. Tickets: Adults $12, Seniors/Children 13 & Under $10, GA Balcony $8
View our Calendar of Events to find details on upcoming events, performances, and so much more!
Find details on how to get to our convenient downtown location from surrounding hotels and airports along with parking options while attending an event.
---
Contact Information
Memorial Auditorium Convention Center
503 North Pine
Pittsburg, KS 66762
Phone: (620) 231-7827 Fax: (620) 231-5967

Hours of Operation:
Monday - Friday
8:00 a.m. – 5:00 p.m.