Upcoming Shows & Events
Pittsburg Community Theatre Presents:
"Red Skelton's Christmas Dinner"
December 8th and 9th @ 7:30pm
December 9th and 10th @ 2pm
In our stage version of the show, Freddie the Freeloader prepares to scrape together money and enjoy a Christmas dinner with his equally poverty-stricken friend, Professor Humperdo, at one of New York's fancy restaurants. Stopping along the way, he visits a hospital and entertains some children for Christmas. The special includes drama, comedy, miming, and music for which Skelton was known. Our production also includes holiday caroling by several of our community's best singers.
Make plans to see this unique holiday-themed production just in time for the holidays.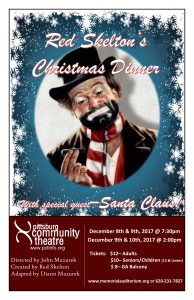 Adults $12
Children and Seniors $10
Balcony GA $8
Beverly Corcoran Art Gallery
DECEMBER: URBAN ART GALLERY & JOPLIN REGIONAL ARTIST COALITION
Reception Sunday, December 3rd from 1pm-3pm
Want to display art in our gallery for a month, free of charge? Call us for availability!
Holiday Programs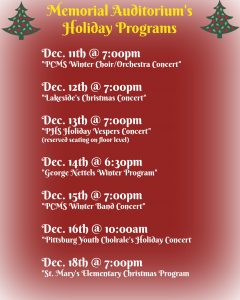 Travis Tritt Concert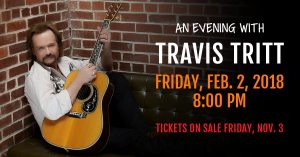 View our Calendar of Events to find details on upcoming events, performances, and so much more!
Find details on how to get to our convenient downtown location from surrounding hotels and airports along with parking options while attending an event.
---
Contact Information
Memorial Auditorium Convention Center
503 North Pine
Pittsburg, KS 66762
Phone: (620) 231-7827 Fax: (620) 231-5967

Hours of Operation:
Monday - Friday
8:00 a.m. – 5:00 p.m.