Street Sales Tax Provides Additional Funding
Pittsburg voters overwhelmingly approved renewal of a quarter-cent street sales tax in September 2015 to provide additional funding for the repair and maintenance of City streets. This tax began April 1, 2016 and will sunset after 5 years, expiring on March 31, 2021.
This street quarter-cent sales tax enables the City to have a 5-year maintenance plan that utilizes existing resources, outside resources, and a prioritized project list to ensure ongoing street maintenance. The sales tax is estimated to generate approximately $1 million annually.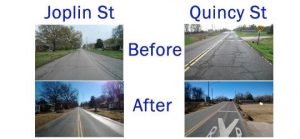 Revenues
The City of Pittsburg started collecting the street sales tax in April 2011.  To date, the City has received $5,401,422.  Of this amount, $683,020 is in reserves for 2017.
Progress Since Implementing the Street Sales Tax
The City has completed the original list of projects as planned and additional projects with the completion of all projects being done without issuing debt.
Since the implementation of the street sales tax, the percent of streets rated satisfactory has increased from 39% to 50%.
Currently, the City is averaging 10 lane miles of street maintenance per year.

Additional Documents: