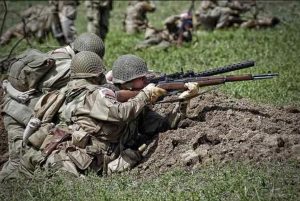 The Crawford County Historical Museum, World War II Historical Reenactment Society and Nordland Reenactors present
"WWII Battle for Cow Creek"
See displays of WWII era equipment and uniforms both inside the museum and outside the display camps. Learn about World War II from the perspective of the common soldier. Chat with historians about the uniforms, equipment and daily lives of the men and women who lived through one of the greatest events in human history, and witness the drama as allied and axis forces clash in combat.
Two public display battles will take place at 10:00 am and 2:00 pm, to include weapons firing blanks and pyrotechnics.
Discover something new at the Crawford County historical Museum. 
For more information, visit www.crawfordcountymuseum.com.