Join us for Earth Week 2021!
The Pittsburg Sustainability Advisory Committee is spreading the word about Earth Day through several activities taking place April 19 – 24. There are numerous ways you can get involved and help protect the planet!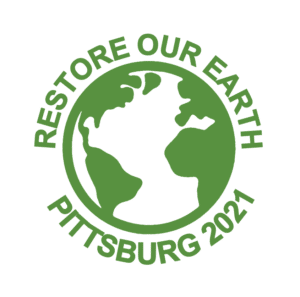 Take the Sustainability Pledge
Sponsored by In the Garden, Pittsburg Beautiful and City of Pittsburg 
We're encouraging residents to make a difference by taking the Sustainability Pledge! Sign up today and be entered into our prize drawing. Two participants will win a $50 gift card to In the Garden and two more participants will win a rain barrel kit. The Sustainability Pledge will close Saturday, April 24 at 10:00 pm with winners notified the following Monday. 
Business Sustainability Pledge / Nomination
Help us ensure a sustainable future for Pittsburg by taking the Sustainability Pledge for Businesses or by nominating a local business for their commitment to sustainability. 
Nominated businesses or those taking the pledge will be eligible for recognition from the Pittsburg Sustainability Advisory Committee in the form of a badge for the upcoming year. Businesses who are nominated will also be recognized on the city's Facebook page. Let your customers and those in the community know that your business is committed to reducing its impact on the environment by incorporating and promoting sustainable practices.
Sign the Pledge/Nominate a Business!

Pittsburg Beautiful: Earth Day Clean-Up
Saturday, April 24 | 10:00 am – 2:00 pm
The Pittsburg Young Professionals and Pittsburg Beautiful are teaming up to host a community clean up on Saturday, April 24, from 10:00 am – 2:00 pm. Everyone is invited to join! Click the link below to choose your time slot and location. Volunteers will be provided with vests and bags. Volunteers will need to bring their own gloves.
Earth Day Sales
Saturday, April 24
Join us on April 24 to celebrate Earth Day by shopping local and supporting sustainable brands!
Start your day off at the Farmers' Market and then make your way downtown for lunch and shopping some great sales.
119 E. 11th St., Pittsburg, KS
2021 Market Dates:
Saturdays | 8:00 am – 12:00 pm (April 17 – Oct. 30)
Wednesdays | 4:00 pm – 6:00 pm (June 9 – Aug. 11)
Looking for sustainable, locally-sourced foods? Look no further than the Pittsburg Area Farmers' Market!
Earth Week Educational Resources
SEK Recycling Center
The Southeast Kansas Recycling Center is a not-for-profit organization with the mission to give area recyclers a place to bring materials, as well as educate the community on recycling. Learn more at www.sekr.org!
Restore Our Earth!
3rd and 5th grade students from Ms. Walker's, Ms. Bugni's, Mr. Burford's, and Ms. Loughmiller's classes at Lakeside Elementary School were asked to create art in honor of Earth Day 2021 and the theme "Restore our Earth!" Here are their works of art!
Learn more – Get involved!
Contact the Pittsburg Sustainability Advisory Committee to learn more about these initiatives or volunteer.