The auditorium's gallery is open from 8:00 a.m. until 5:00 p.m. Monday through Friday. The artwork can also be seen whenever the auditorium is open for evening and weekend meetings and performances.  The display is free of charge.
If you would like to display int the art gallery please print off the Art Exhibit Agreement form and return to Memorial Auditorium.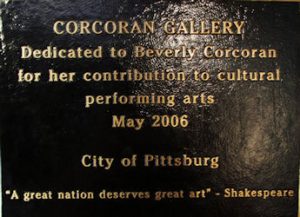 ---
Contact Information
Memorial Auditorium Convention Center
503 North Pine
Pittsburg, KS 66762
Phone: (620) 231-7827 Fax: (620) 231-5967

Hours of Operation:
Monday - Friday
8:00 a.m. - 5:00 p.m.